Guest Information
Guest Directory
5. Guest Serivices & Facilities
9. Feedback
It is our sincerest wish to provide you with superb facilities and friendly, professional service during your stay with us. This compendium will give you information about the wide range of services we offer.
Twin Towers Inn is located only 15 minutes from the Sydney CBD. The commercial centres stretching from North Sydney to Chatswood are positioned conveniently nearby along with health facilities such as the Royal North Shore and Mater Hospital.
The safety and wellbeing of our guests is always a top priority. In light of the current COVID situation, our Restaurant & Bar is closed for dinner until further notice. Breakfast will continue to be served by room service only. Order sheets are available at Reception. Please order the night prior to your meal.
We offer complimentary drop-off services for guests 9am to 1:30pm, Monday to Thursday. Not available on Fridays and Public Holidays. Pre-book only. Please ask our reception staff for more details.
If you require any assistance, please do not hesitate to contact Reception.
Reception hours are 9am to 8pm daily and can be reached by dialling '9' on your room phone.
---
Monday to Sunday: 9 am – 6 pm
Check-in: after 2pm
Check-out: before 10:30am
Night Porter is available from 6 pm
Reception can be reached by dialling '9' on the room phone.
If checking out early before reception hours, you may wish to settle up the night before and leave key cards in box near reception.
Every guest is entitled to enjoy their stay.
If you are being disturbed during your stay outside reception hours, please do not hesitate to call the Night Porter by pressing '4' on your room phone or hotel number '02 9439 1388' .
Please be considerate of other guests at the hotel.
The Manager is within their right to call the police and have any disruptive persons removed immediately from the property without a warning. No refund will be offered to any persons removed from the property and charges may apply. Please show respect for the guests around you and be considerate of your noise levels and activities.
---
Smoking
Smoking in rooms is strictly prohibited by law with fines of up to $300. Please be considerate of other guests and use the designated smoking areas.
Pets
Pet-friendly rooms are limited at Twin Towers Inn. We reserve our right to take actions if this is violated.
Cash Policy
We accept all major credit cards including Mastercard, Visa, Amex and Union Pay.
If paying by cash, it is our policy that you leave a bond to cover any extras (food, beverage, telephone etc).
Lost Property
Please check your room before leaving. If lost property is found, we will hold the items for you for three months from the date of check-out. If we do not receive handling instructions within this period, we reserve our right to dispose these items.
Reservations
Twin Towers is able to arrange future reservations on your behalf. You are welcome to phone Reservations on 02 9439 1388 to make the booking or visit www.twintowersinn.com.au to book accommodation.
Room Keys
Room keys are issued to the registered guest(s). No room keys will be issued to youth under 18 at any time. I.D. is required if you have lost your key and require a duplicate. Please return room keys to Front Desk at Check-out to avoid the $10 penalty for lost keys.
Quiet Time
11pm-7am. Please be respectful of our other guests by keeping noise level to a minimum and avoid all excessive commotion.
Damage
Guests are responsible to treat hotel property and amentites with respect. Guests will be charged for replacement or repair of damage to hotel property or guest rooms.
---
Our Restaurant & Bar offers excellent meals and snacks, a licensed bar and a welcoming smile. In light of current COVID situations, dinner is unavailable until further notice. Breakfast will continue to be served by room service only.
Breakfast
Monday – Sunday: 7:15 am – 9 am
Breakfast Room Service is available every morning including Public Holidays.
Order sheets are available at Reception. Please complete the order sheet and kindly bring it in to Reception before 8.30 pm on the evening prior for delivery to take place at the time specified.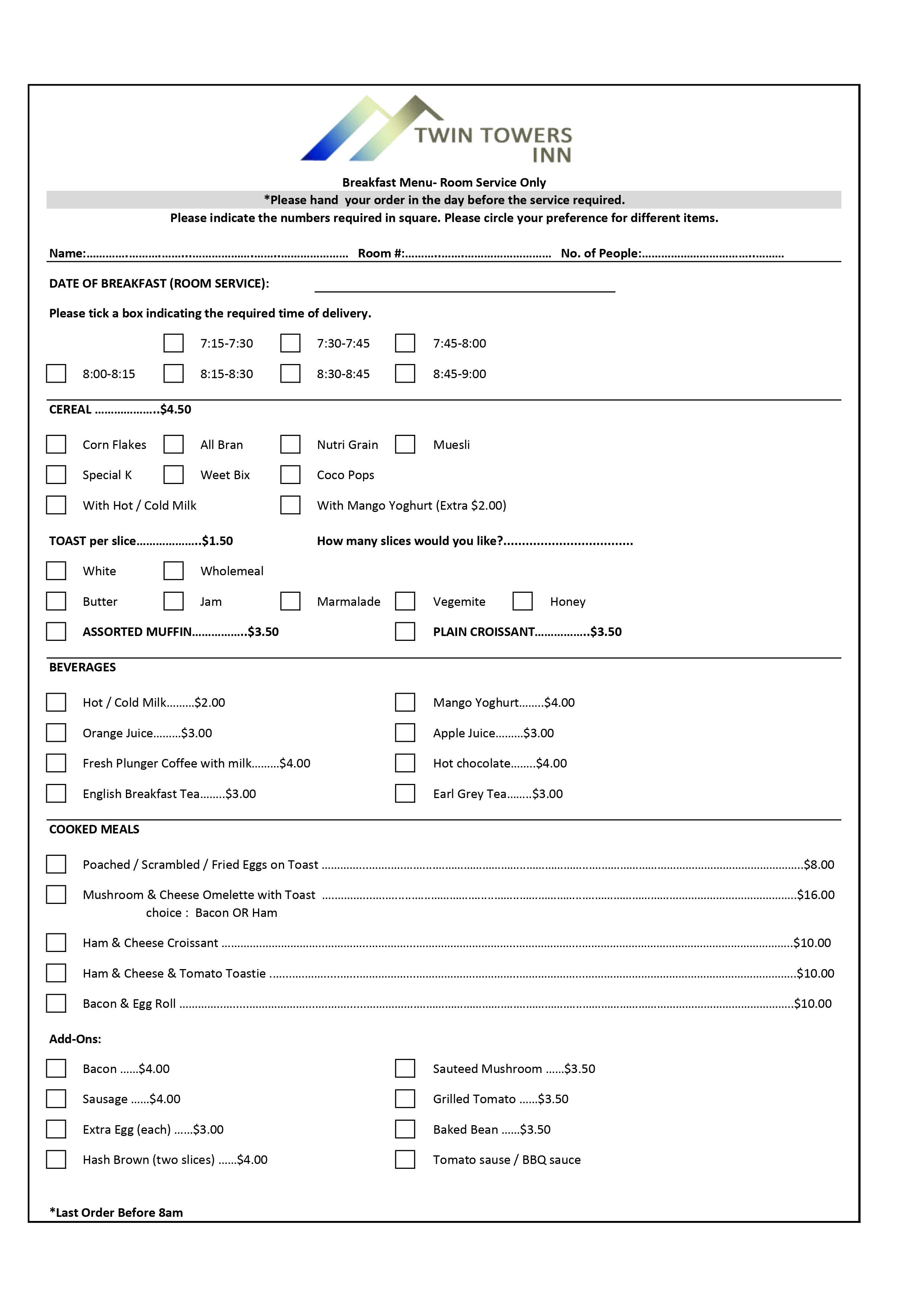 ---
Wake-up Calls
Wake-up calls can be arranged at the time of your choice. Please contact Reception.
Internet
Free wireless is now available please contact reception during office hours for the code.
An Internet café is available in the foyer during office hours and is also free.
Telephones
Should you have other guests staying with us and you would like to contact their room directly, simply pick up your handset and dial '2' and then their room number our system will automatically transfer your call. (There is no charge for this service)
Pool and Spa
The pool and Spa area can be utilized between office hours. The gate is fixed with a child proof latch which is located on the left side of the gate, to release the latch pull the knob upwards and then pull the gate towards you. Pool and Spa will be closed during winter season from June to October.
Laundry
Our guest laundry is located next to Room 51. $3.00 (3 x $1 coins) for the washing machine and $1.00 for the dryer.
Guest Kitchen
Our guest kitchen is located next to conference Campbell room.
Microwaves & Toasters
Microwaves & Toasters are availabe upon request
---
In the event of any emergency, please call Reception ('9'), outside reception hours please call Night Porter ('4') to report the matter. Leave your room immediately, close the door and muster at the roadway frontage.
The Fire Brigade recommends you do not pause to collect any possessions.
Please rest assured that Twin Towers keeps regular maintenance of our fire extinguishers and is very mindful of the importance of safety at all times.
Medical Emergencies
Royal North Shore Hospital (02) 9926 7111 15-20 minute walk
North Shore Private Hospital (02) 8425 3000 15-20 minute walk
Mater Hospital (02) 9900 7300 10-15 minute drive
The emergency number for ambulance, fire, or police is '0' (for outside line) then '000'
Medical Centres
St Leonards Medical Centre (02) 9906 2544 | 38 Pacific Hwy, St Leonards
Chatswood Medical Centre (02) 9413 2222 | 270 Victoria Ave, Chatswood
---
Television
Foxtel TV 6 channels available:
101 Premiere Movies
102 Fox Sports
103 Premiere Movies 1
104 Fox League
105 Discovery
106 Sky News
Air-Conditioning
Reverse cycle air-conditioning is individually controlled from the wall console in each room.
Alarm Clock
Alarm clocks are placed by your bedside. Should you require any assistance with setting your alarm, please contact Reception.
Hairdryers
For your convenience a hairdryer is located in your bathroom.
Pillows & Blankets
Extra Pillows & Blankets can be found in the wardrobe.
Iron & Ironing Board
Iron and ironing board are located in the cupboard in all rooms.
Tea & Coffee Making Facilities
All rooms are provided with complimentary tea and coffee making facilities. Complimentary milk is replenished daily in your refrigerator. For additional supplies, please contact Reception.
Plates & Cutlery
Cutlery, Plates & Wine Glasses are available from reception when required.
DVD Player
DVD Player and DVD are available from reception when required.
Check Out Time
Our check-out time is 10.30am unless prior arrangements have been made. We are happy to organize an extension for you, subject to availability. We do, however, reserve the right to charge guests additional fees for departures later than 11.30am. Please contact Reception should you wish to delay your departure.
---
Please click below for directions:
Public Transport
Buses to the CBD (Central Station)
Taxi & Airport Shuttle
Pleaes contact reception by dialing '9' on your telephone.
*Please note: this is a third party operator not associated with the Hotel.
---

Leave us a review on Google: